The Canon Digital IXUS 970 IS is known in America as the Canon PowerShot SD890IS and in Japan as the Canon IXY Digital 820IS.
| | |
| --- | --- |
| | CHDK is available for the SD890 / IXUS 970 with fw version 1.00B, 1.00C, 1.00D, and 1.00F from the Download page |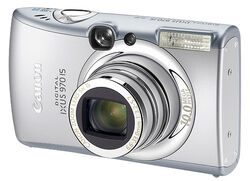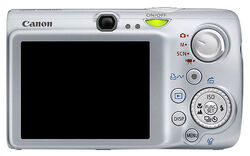 Technical Data
Edit
10.0 million effective pixels (3648 x 2736)
Digic III image processor
DryOS operating system
5x optical zoom lens
1/2.3 " Type CCD
Lens: 6.6 - 33.0 mm / 37-185 mm (35mm equivalent)
Image stabilization
F3.2 - F5.7
2.5 " LCD, 230,000 dots
Video format: AVI (Motion JPEG + WAVE mono)
Supported memory cards: SD / SDHC / MMC
NB-5L rechargeable Li-ion battery
Dimensions: 95.4 x 57.2 x 27.4 mm, Weight: 155g
Version information
Edit
Created ver.req, then pressed FUNCSET and DISP simultaneously:
Japan
Canon IXY DIGITAL 820 IS
P-ID:3173 NT D
Europe
Canon DIGITAL IXUS 970 IS
P-ID:3173 PAL D
North America
Canon PowerShot SD890 IS
P-ID:3173 NT D
Version 1.00B
Firmware Ver GM1.00B
NoError
Jan 24 2008 19:30:31
Version 1.00C
Firmware Ver GM1.00C
NoError
Feb 29 2008 15:13:44
Version 1.00D
Firmware Ver GM1.00D
NoError
Aug 5 2008 11:39:36
Version 1.00F
Firmware Ver GM1.00F
NoError
Oct 28 2008 13:41:31

Pressing DISP once again with FUNCSET still pressed:
Version 1.00B
Adj Ver.009.007
Version 1.00C / 1.00D / 1.00F
Adj Ver.010.000
Pressing DISP a third time with FUNCSET still pressed:
IS Firm Ver. 3.00
IS Param Ver. 3.00
For Developers
Edit
Firmware Dumps
Edit
PWR    0xc02200d0
PRINT  0xc02200d4
ORANGE 0xc0220130
GREEN  0xc0220134
YELLOW 0xc0220138

Community content is available under
CC-BY-SA
unless otherwise noted.