PowerShot SD850IS DIGITAL ELPH / Digital IXUS 950IS / IXY DIGITAL 810IS
This is a 8.0 megapixel compact camera, announced 7 May 2007, that runs VxWorks 5.5 OS on DiGiC III processor.
| | |
| --- | --- |
| | CHDK is available for the SD850 / IXUS 950 with firmware version 1.00C from the Download page |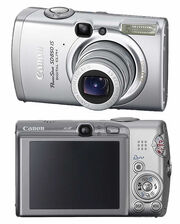 Reviews and Specifications
Firmware Version
Canon DIGITAL IXUS 950 IS
P-ID: 314B PAL V

Firmware Ver GM1.00C
No error
Mar 27 2007 13:40:57

Adj Ver.009.000
IS Firm Ver.  2.80
IS Param Ver.  2.30

LED addresses
AF:		0xC02200C0
Print (blue):	0xC02200C4
Orange:		0xC02200C8
Green:		0xC02200CC
Yellow:		0xC02200D0
Power (green):	0xC02200D4

Firmware Dumps
Porting CHDK
Porting for the SD850 with fw version 1.00C is done, the sources are available from the CHDK SVN server, binary packages are available from the DL page
SD850 porting thread: forum link.
On 7th and 9th March 2008, respectively, Fingalo (aka Christer den Mästare) and Microfunguy (aka David the Stereoguru) added the cam to their regular builds. A couple of days later Fingalo very kindly adapted the port to the then current official CHDK sources at tools.assembla.com and added it to the source trunk in revision 322, thus formally ending the porting phase.