Jurassic World: Dominion Dominates Fandom Wikis - The Loop
Play Sound
Canon Powershot SD1200IS / IXUS95IS / IXY DIGITAL 110 IS
The Powershot SD1200IS / IXUS95IS was released on February 17, 2009
CHDK is available for the Powershot SD1200IS / IXUS95IS with firmware version 1.00C from the Download page. A beta version for firmware 1.00B is available from the SD1200 porting forum thread

Note that this camera does not appear to support dual partitions so use an SD card 4G or smaller for Card Lock autobooting. If you would like to help test a fix this, see this post SD1200 IS Porting Thread. Note that CHDK will work with larger cards formatted in FAT32, but only using firmware update mode.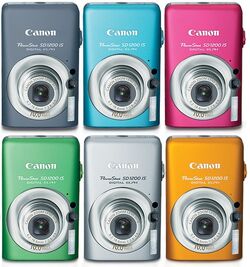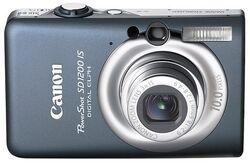 Reviews and Specifications
Technical Data
Digic IV image processor
DryOS operating system
Sensor: 10.0 million effective pixels, 1/2.3 CCD (6.16 x 4.62 mm, 0.28 cm²), 35 MP/cm² Pixel Density
Max image size: 3648 x 2736
3x optical zoom lens 35-105mm (35mm equiv), F2.8 - F4.9
2.5 inch LCD, 230,000 pixels
ISO 80-1600
640 x 480 @ 30 fps, 320 x 240 @ 30 fps movie recording
Power: Lithium-Ion NB-6L battery
Weight (without battery): 120 g (4.2 oz), Dimensions: 86 x 55 x 22 mm (3.4 x 2.2 x 0.9 in)
Firmware info
The vers.req file is used to retrieve firmware information from the camera.
After holding down FUNCSET and then pressing trash&timer:
P-ID:31C4 NT D       <-- (US NTSC Version)

 
Firmware Ver GM1.00C 
NoError 
Jan 9 2009 14:57:24

Second press of trash&timer (while still holding FUNCSET) reveals:
Adj Ver. 006.008

Third press of trash&timer (while still holding FUNCSET) brings up this:
Adj Ver. 006.008

IS Firm Ver. 2.07

IS Param Ver. 2.09

After holding down FUNCSET then pressing trash&timer four times with vers.req file:
Driver info: 0x00000000

For Developers
Interested in helping port? Found Bugs? Head here!
LED addresses
#define LED_IO_R 0xC0220130    // IO indicator LED (red state)
#define LED_IO_G 0xC0220134    // IO indicator LED (green state)
// Red and Green together is orange

#define LED_O_LF 0xC0220138    // IO indicator LED left (yellow state)
#define LED_AF   0xC0223030    // Auto-focus LED (very bright...)

Firmware dumps
firmware version 1.00C (4MB), blinked out by syrius (forum link), starting at 0xFFC00000
firmware version 1.00B (4MB), dumped by luddek with cBasic udumper