"Card Tricks - un piccolo programma di utilità per aiutare a gestire le schede SD" creato da whim.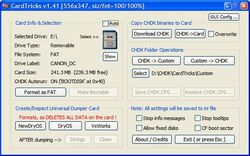 Funzionalità
Copia i file binari di CHDK sulla vostra scheda di memoria
Crea un "Universal Dumper Card" per scaricare il vostro firmware (dovete specificare la versione corretta dell'OS del vostro modello di fotocamera: ad esempio SD900 ha il sistema operativo VxWorks 5.5, quindi si scarica specificando VxWorks)
Visualizza le stringhe nel firmware scaricato, usando bintext.exe (incluso)
Formatta la scheda di memoria (aggiungendo anche il file 'ver.req' per ottenere la versione del firmware)
Rende bootable la scheda di memoria
Effettua il Backup & Restore del file di configurazione presente nella cartella CHDK
Uso
Preparazione e installazione della scheda: CHDK per principianti
Guida di installazione illustrata: CHDK/Installing with Cardtricks New !
Nota: In ambiente MS Windows 98/ME Cardtricks non supporta la funzionalità 'make bootable', usare quindi un disk editor per farlo manualmente.
Scaricamento
? Forum post ha sempre un collegamento all'ultima versione. Un sito alternativo è http://tinyurl.com/chdkfiles
? Talvolta il programma è falsamente riconosciuto essere un malware. se questo accade provate una scansione online:
funzionalmente identico alla v1.43, ma ora impacchettato con [www.7zip.org 7zip] anziché UPX
Aggiunto supporto per CCHDK.CFG
Il ridimensionamento della ("GUI Config") ora non forza più la ri-selezione della scheda
Nuovo: viene ricordato l'ultimo percorso dal quale sono stati installati i file binari zip di CHDK; la scelta del file la prossima volta sarà proposta in quella cartella
Ora verifica la dimensione della scheda prima di creare Udumper; rifiutata su schede < 16 Mb; la dimensione di empty.dum è portata a ~ 10 Mb, ora le schede da 16 Mb cards sono OK per Udump
New: Udumper + sorgenti aggiornati (ora usa encode.c corretta da brake)
Helper files e codice sorgente sono sempre riscritti (bugfix)
New: checkbox to activate CF support for DSLR's
Card Tricks 1.39 is the last version which supports Windows 98/ME,
since version 1.40 Card Tricks does NOT support Windows 98/ME. Windows 2000/XP/2003/2008 is needed!
Modified udumper to dump firmware to the end (=0xFFFF FFFF)
Modified cleaning routine for the dump, after removing leading/trailing zeroes it now chops the last 2 bytes; this should assure painless loading into IDA
The 'Download CHDK' button now opens both GrAnd's and Hacki's Autobuild pages in default browser
New: If other CT running, bring that to the front, then exit; little splashscreen (should only be visible on first run); added checkbox to control tooltips
New: Improved universal dumper support: now has a button to clean your dump (will auto-remove leading and trailing zeros, and remind you to give it a useful name)
Collegamenti
Internals
Cardtricks è realizzato col linguaggio di scripting AutoIt. Potete trovare ulteriori informazioni su questo potente linguaggio di scripting, gratuito, su: on the AutoIt v3 Homepage.
CardtricksXXX.exe è un file autoscompattante. Quando viene eseguito crea una sottocartella della cartella corrente, denominandola Cardtricks, quindi vi copia il codice sorgente, unpackers, gli strumenti ausiliari come i dumpers & lo strumento bintext, le immagini della GUI ed altro.
Quando Cardtricks è eseguito per la prima volta, crea anche un suo file di configurazione denominato CardtricksXXX.ini nella cartella di esecuzione.

Verificate quindi di avere i diritti di scrittura e di creazione di cartelle quando eseguite Cardtricks (ad esempio, create una nuova cartella nella vostra area utente, copiate CardtricksXXX.exe in questa cartella ed eseguitelo sempre da questa cartella.
La logica del pulsante "Make Bootable" è la seguente:
| | |
| --- | --- |
| "File System: FAT32"     | ? il pulsante è grigio (=inibito: scheda > 4 GB oppure occorre formattarla FAT) |
| "File System: FAT" | ? il pulsante è grigio se è già bootable ("CHDK Autorun: ON ...") |
| | ? il pulsante è abilitato se non è ancora bootable ("CHDK Autorun: OFF ...") |