Canon IXUS 980 IS / SD990
[
]
The Canon Digital IXUS 980 IS is known in America as PowerShot SD990 and in Japan as IXY 3000 IS.
CHDK is available for the Ixus 980 / SD990 with fw versions 1.00E and 1.01B from the Download page

With CHDK the camera always starts in playback mode; press the Shutter button once or just hold the power button for ~2s
Edge overlay & Custom curves may not work on the Ixus 980/SD 990 (link)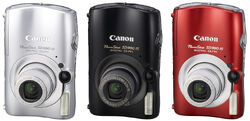 Reviews:
Technical data
[
]
Canon Product Specification: Canon UK - Ixus 980
DryOS operating system
Digic IV image processor
Sensor: 14.7 MP, 1/1.7" CCD type, 34 MP/cm² pixel density
Display: 2.5 inch TFT, 230,000 pixels
3.7x optical zoom, optical IS
7.7 - 28.5mm f/2.8 - f/5.8 (35mm film equivalent: 36 - 133mm)
optical viewfinder
Speed: approx. 1.3 fps (continuous shooting)
Audio: Monaural
combined AV & USB connector; one mini-B jack that handles both the AV Out and USB connectivity, shipped with 2 different adapter cables (AV & USB)
Manual control and 20 other modes
Power: NB-5L rechargeable Lithium-ion battery, 280 shots (LCD on)/700 shots (LCD off)
Weight 160g (without battery), 205g (7.2 oz) with battery
Dimensions: 98 x 62 x 28 mm (3.9 x 2.4 x 1.1 inch)
Version information
[
]
Created ver.req, then pressed FUNCSET and DISP simultaneously:
Canon IXY DIGITAL 3000 IS
P-ID:3193 NT D
       
Firmware Ver GM1.00E
NoError
Aug 22 2008 10:53:49

Pressing DISP once again with FUNCSET still pressed:
Adj Ver.004.000

Pressing DISP a third time with FUNCSET still pressed:
IS Firm Ver. 2.07
IS Param Ver. 2.03

CHDK specialities
[
]
With CHDK the camera always starts in playback mode; press (or half press) the

Shutter

once or just hold

POWER

for ~2 seconds for record mode
As on other newer cameras with 12 bit sensors, the 'Custom curves' feature do not work on the Ixus 980/SD 990
Pressing the shutter quickly with overrides enabled may result in incorrect white balance. It may also cause issues if the flash is automatically triggered
Betas prior to build 934 needed custom grids. This has been fixed, meaning grids made for these older builds will no longer work, but standard grids will work.
For developers
[
]
LED addresses
[
]
0xC0220134  green
0xC0220130  orange (right)
0xC0220138  yellow (left)
0xC02200B0  power
0xC02200BC  direct print

Porting
[
]
Porting the SD990 was done by reyalP. Builds are available from the Download page
Firmware Dumps
[
]
Links
[
]