Jurassic World: Dominion Dominates Fandom Wikis - The Loop
Play Sound
The Powershot G10 was released in 2008 with a 14.7 megapixel CCD sensor as the successor to the Powershot G9. It has since been replaced by the Powershot G11 and Powershot G12, which both have a smaller sensor resolution but better light sensitivity.
| | |
| --- | --- |
| | CHDK is available for the Powershot G10 with firmware version 1.02a, 1.03b and 1.04a from the Autobuild Server |
Reviews
Technical Data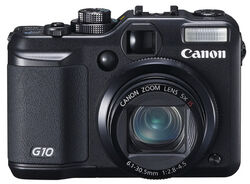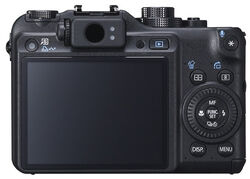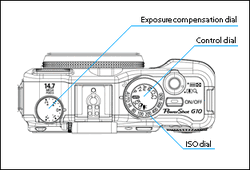 Digic IV image processor
DryOS operating system
14.7 megapixel CCD sensor
1/1.7 sensor size
34 MP/cm² pixel density
4416 x 3312 max resolution
5x wide-angle (28mm) optical zoom lens 28-140mm (35mm equiv), F2.8-4.5
dedicated AE compensation dial
RAW image recording
3 inch LCD, high resolution, 461,000 pixels
ISO 80-1600
Power: rechargeable Li-ion battery NB-7L
Weight (without batteries): 350 g, Dimensions: 109 x 78 x 46 mm
Firmware info
As in other Canon PS case, the ver.req file works as well in this model. vers.req does the same job plus it reports the number of shots. Press FUNCSET and DISP simultaneously: It shows the following:
Canon  Powershot G10       
P-ID:318-F  PAL D       
Firmware Ver GM1.00F       
NoError       
Aug 22 2008   10:55:13

subsequent press of DISP (while still holding FUNCSET) reveals:
Adj. Ver.009.006
NoError
Aug 22 2008   10:55:13

and another press of DISP (while still holding FUNCSET) brings up this:
Adj. Ver.009.006
IS Firm Ver.   2.08
IS Param Ver.  2.02

For Developers
LED addresses
0xC02200D0: ISO speed lamp
0xC02200D4: Shortcut/Print lamp/button
0xC02200D8: Exposure compensation lamp
0xC02200DC: Power lamp/button

Firmware dumps
Official firmware update
In February 2009, Canon released a firmware update for the G10. You can find it (and description of what it does) here. It is labeled 1.0.2.0 and the camera reports version GM1.02A after the update. The firmware date is reported as "Dec 2 2008". The update is based on camera serial number but seems to apply to firmware releases 1.00F and 1.00H, converting them to 1.02A on the camera.
There may also be a physical mark on the battery cover of G10 cameras if the firmware was upgraded to 1.0.2.0 by Canon; details here.