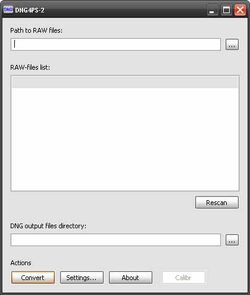 DNG for PowerShot-2 (DNG4PS-2) is free software for converting RAW files, produced by Canon PowerShot cameras using CHDK, into Digital Negative (DNG) format. DNG files are more widely supported by commercial and non-commercial graphics editing programs than the native RAW format produced by CHDK.
DNG4PS-2 supports a long list of Canon PowerShot cameras and runs on Windows, Linux and MacOSX. Full details are listed on the homepage in addition to the source code and information about ways to contribute to the development.
Thanks to Denis Artyomov for creating and maintaining this program!
NB: Development is currently reported as stalled (last checked: 6th October 2009).  However,  some more recent updates are here :
and here:
Camera settings
Edit
Community content is available under
CC-BY-SA
unless otherwise noted.