Bracketing Overview
[
]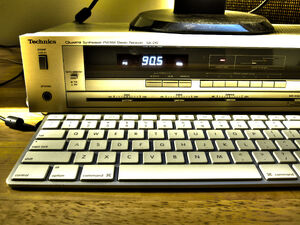 CHDK allows you to quickly and easily perform bracketing using an extra photo override. CHDK bracketed photos are perfect for making HDR (High Dynamic Range) images in your favorite photo editor. In this post I will guide you through the steps required to take bracketed photos using your Canon Powershot Camera and CHDK.
You can also use the bracketing techniques mentioned in this post to make HDR panoramas and equirectangular images for use in 3D graphics packages with the addition of HUGIN or PTGUI.
Setting Up CHDK Bracketing
[
]
1. Open the CHDK Main Menu.
2. Load the Extra Photo Operations Menu.
3. Set Disable Overrides to Off.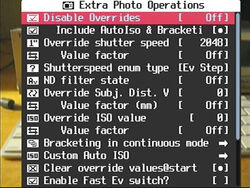 4. Open the Bracketing in continuous mode menu.
5. Change the TV bracketing value from Off to something like 1 Ev.
If you want you can enable "Clear Bracket Values on Start" which will reset the bracketing settings when you restart the camera.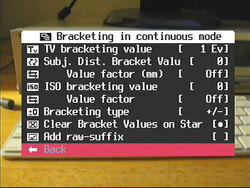 6. Close the CHDK Menus and exit ALT mode.
7. Switch to the Continuous Photo mode.
8. Hold down the Shutter button to take your bracketed photo sequence.
Automatic Bracketing
[
]
If you want an automated bracketing solution you can press the self timer button on your camera and scroll down to enable the Custom Timer. Press the Menu button when the Custom Timer is selected to change the delay to 0 seconds and the shots to a value like 10. The shots setting will specify how many pictures are taken automatically when you press the shutter button once.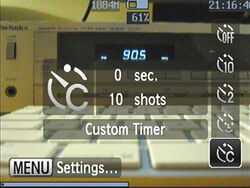 When you are finished taking your HDR sequence set the Self-Timer to OFF.
Post Processing Bracketed Images
[
]
After you transfer the bracketed sequence to your computer you can process the images using your favorite HDR software. Photoshop, Photomatix, and Enfuse are popular tools for creating HDR images.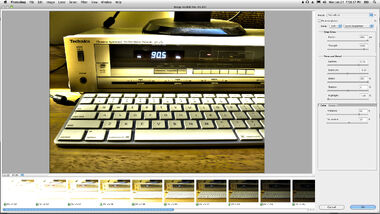 You can also create HDR panoramas from CHDK bracketed images using the Hugin or PTGui photo stitching software.