The Canon PowerShot A650IS was generally available as of September 2007. It is based on the Digic III platform and features the DRYOS OS. As of February 2008, builds of CHDK for the Canon A650IS camera are available.
CHDK is available for the A650IS with firmware version 1.00D from the Download page.

This camera has CHDK multi partition support for booting but does not include the CHDK UI multi partition menu items.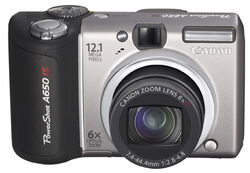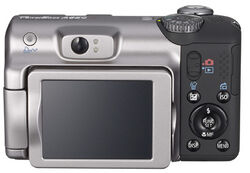 Reviews and Specifications
[
]
Technical Data
[
]
Sensor: 12.1 Megapixel CCD
Lens: F2.8-4.8, 6X optical zoom lens, 35-210mm (equiv.)
Display: Tilt-and-swivel 2.5" LCD display
DIGIC III image processor
DryOS operating system
ISO range 80-1600
Max resolution: 4000 x 3000
AF-assist lamp
Full manual controls
Can record movies at 640 x 480 (30 frames/second)
Support for conversion lenses, external slave flash, and underwater case
Uses four AA batteries
Uses SD/MMC memory card
Changed to standard designation
Firmware Version
[
]
Per the CHDK FAQ 1.3:
Power on in PLAY mode with a ver.req file on the SD card; press and hold FUNCSET, press DISP reveals the firmware version. For example:
Canon PowerShot A650 IS

P-ID:315B NT D

Firmware Ver GM1.00D

NoError

Jul 6 2007 12:41:33

a subsequent press of DISP (while still holding FUNCSET) reveals (for example):
Adj Ver.006.005

a subsequent press of DISP (while still holding FUNCSET) reveals (for example):
IS Firm Ver. 3.01

IS Param Ver. 3.00

If you power on in PLAY mode without ver.req on the SD card and press the FUNCSET and DISP buttons simultaneously, the screen shows:
Firmware Ver. 1.0.0.0

    [ OK ]

Subsequent presses of DISP have no effect. One must press FUNCSET to clear the screen (i.e. answer the OK).
Using the filename vers.req (rename ver.req to vers.req) with the above sequence will replace the IS Firm version output with the total number of shots taken by the camera to date.
Language Interface
[
]
User's manual p.14:
Set mode switch to PLAYBACK. Hold down FUNCSET and press MENU, this will brings up a menu where you can change the language interface for the camera. Use the direction button to select the language and press FUNCSET to accept the selection.
Other button sequences don't seem to do anything.
* Canon Product Advisory *
[
]
Canon has issued a product advisory for the A650IS due to a fault with early production units suffering from a light leak when the back of the camera is in strong light with the LCD swung out. See this link for details: [A650IS Product Advisory]. The Advisory provides details of how to determine if a particular camera suffers from the problem and how to send affected cameras to Canon for repair.
For developers
[
]
Create a file called PS.FI2 on the root of the SD card, power the A650IS on in Play mode, and press the menu button.
The menu now shows an extra option:
Firm Update...

LED Memory Addresses
[
]
The following LEDs are found by modifying the G7 blinker to try turning on LEDs at different addresses. This A650IS is an Australian model with the same firmware prompts as above, except with P-ID:315B NT D replaced by P-ID:315B PAL D.
0xC02200C0  AF beam
0xC02200C4  Blue
0xC02200C8  Orange
0xC02200CC  Green
0xC02200D0  Yellow
0xC02200D4  Power (also green coloured)

diskboot.bin for firmware blinking
[
]
A650IS firmware blinker.[1] Made using the LED Addresses from this page and modifying tommi2water's S5IS blinker.
Firmware dumps
[
]
The A650IS firmware has been extracted using a universal dumper (writing to SD). It is available here.
CHDK available (outdated)
[
]
The AllBest's Build for the A650IS is available.
Download the relative file from http://malbe.nm.ru/chdk/.
Then, from ewavr post:
Make card bootable. Card must be FAT16 formatted.
Copy diskboot.bin to card (ps.fir can be moved to trashcan :))
 Note: for A650 the filename is PS.FI2 not PS.FIR

Lock the card by flipping the switch on it to the locked position.
Insert your card into the camera and switch it on.
Enjoy!
Note: Protecting the SD card will still make it possible to save shots and also to format the SD-card (be aware that formatting will destroy the diskboot.bin and you will need to copy the software again, have always a backup on your HD somewhere ;-) ).
Note: Manual loading of the CHDK firmware on the A650IS is not (currently) functional. You must use the bootable SD card method to get CHDK to install.
Issues (outdated)
[
]
75.92.162.183: I've found that the AllBest build is not consistently allowing me to take RAW photos, despite setting CHDK to shoot RAW. Sometimes toggling the setting off and then on will allow me to shoot one RAW photo.
That's a known issue on some cameras, RAW files are not saved when the shutter is pressed very quickly (without "half-press"), described in the forum: Sporadic RAW images. It's already solved for the A630, A640 & SD850, but not yet for the A650...
I have not had any success with high-speed motion detection, even with manual focus and trying out all the options for shutter release. --213.31.11.107 09:56, 2 June 2009 (UTC)
Optical zoom is missing (CHDK version: a650-100d-0.9.9-885). And exposure lock doesn't seem to work as outlined in the CHDK Community Forum (see chdk.setepontos.com - discussion "Exposure Control in Movie mode"). Too bad, that's why I installed CHDK in the first place. Thanks anyway: RAW, grid and live histogram are excellent new features. Iotatau 10:16, April 19, 2010 (UTC)
I had to rebuild my SD card with CHDK. Now optical zoom works, also exposure lock (while recording is active)! I must have had an old CHDK version on the card when I wrote the previous message. The one now is of April 4, 2010. Hooray! Thanks, guys. Iotatau 16:23, May 10, 2010 (UTC)