PowerShot A570 IS
[
]
The Canon PowerShot A570 IS is a 7 MP digital camera with image stabilization, launched in February of 2007.
| | |
| --- | --- |
| | CHDK is available for the A570is with firmware version 1.00E and 1.01A from the Download page |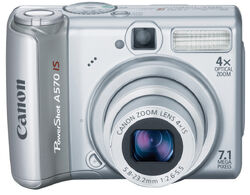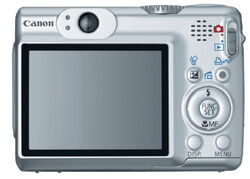 Reviews and Specifications
[
]
Firmware Info
[
]
Firmware information is given if ver.req exists on the SD.
Power on in PLAY mode with ver.req file on the SD card, press and hold FUNCSET, then press DISP to show the firmware version.
...subsequent presses of

DISP

(while still holding

FUNCSET

) shows two more information pages.
Technical Data
[
]
Powershot A570 IS
Processor:
Digic III (ARM946ES)
OS:
VxWorks version 5.5
Sensor:
7.1 million effective pixels, 1/2.5 " Type CCD
Resolution:
3072 x 2304
Lens:
4x optical zoom, 35-140mm (35mm equiv), F2.6-5.5
OIS:
Yes, shift-type
Viewfinder:
Yes, optical viewfinder
Display:
2.5-inch TFT, 115,000 pixels
ISO range:
15 sec to 1/2000 sec without CHDK
Storage:
SD / SDHC / MMC card
Battery:
2x AA Alkaline or Ni-MH batteries, Optional AC adapter kit
Dimensions:
89.5 x 64.3 x 42.8 mm
Weight(body):
175g
USB:
USB 2.0 (Mini-B, MTP, PTP)
Misc:
ISO 80-1600, AV out, Flash adjustable in 3 levels, movie clips up to 640x480 @30fps (320x240 @60fps)

underwater case available
CHDK specialities
[
]
Since CHDK changeset #911 the <Alt> button can be set to PRINT (default) or DISPLAY from the "Miscellaneous stuff" / "<ALT> mode button" CHDK menu

If DISPLAY is selected for <Alt> button: press DISPLAY quickly it will act as your <ALT> mode button, but if you hold it down for a second, it acts like the DISPLAY button normally does
For Developers
[
]
Firmware dumps
[
]
A570 fw 100e (new one, 30-Nov-2008 by fudgey): zShare download
A570 fw 101a
LEDs
[
]
LED_PR 0xc02200C4


The set_led command currently has control of all LED's except for the power LED. 
The address for the power LED is: 0xc02200D4

[

]
PLATFORMID = 12620 (#314C)
The A570 has the 'accelerated' MD (buffer optimization in lib.c: vid_get_viewport_live_fb)