Powershot A460
Edit
The Powershot A460 is a 5 MP entry-level camera released in January of 2007
CHDK is available for the Canon PowerShot A460 with firmware version 1.00D from the Download page

This camera do not have multipartition support, the autostart method is only supported up to 4GB cards;
starting CHDK with the "Firmware Update" menu item works also with cards > 4GB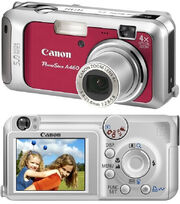 Reviews and Specifications
Edit
Technical Data
Edit
Digic II image procesor
VxWorks operating system
Sensor: 5MP, 1/3" CCD type, JPEG image size: 2592 x 1944
Lens: 5.4-21.6 mm (38-152 35 mm equiv), 4.0x optical zoom, F/2.8 - F/5.8
Display: 2.0 inch TFT, 86,000 pixels
No image stabilisation (IS)
Storage: SD / SDHC / MMC card
Power: 2 x AA size batteries
Dimensions: 106 x 51.8 x 40.2 mm (4.2 x 2.0 x 1.6 inch) , Weight: 165g (5.8 oz) without batteries
RAM: 16MB
Firmware information
Edit
The trick with the ver.req file works on my (i.e. flammarr@gmail.com's) A460 as well, with the following result:
Canon PowerShot A460
P-ID:3149  PAL  V

Firmware Ver GM1.00D
No Error
Dec  1 2006   17:28:24

Pressing SET+DISP buttons again results in:
Canon PowerShot A460
P-ID:3149  PAL  V

Adj Ver.009.005

For developers
Edit
Porting CHDK for the A460 is finally done
CHDK Release (outdated)
Edit
The A460 version of the current CHDK is available in the Autobuild.
Final beta release (beta06) (outdated)
Edit
(4.March 2008) You can get beta06 (final) CHDK binaries for A460 1.00d here:
More details and bug reporting here:
http://chdk.setepontos.com/index.php/topic,474.msg5796.html#msg5796
Special thanks to muttley and his A550 page.
Memory map
Edit
0xffc00000: firmware flash data

0xc0220080: 0x46 enables orange focus assist LED, 0x44 disables it
0xc0220084: 0x46 enables blue print LED, 0x44 disables it

Firmware dumps
Edit
Community content is available under
CC-BY-SA
unless otherwise noted.